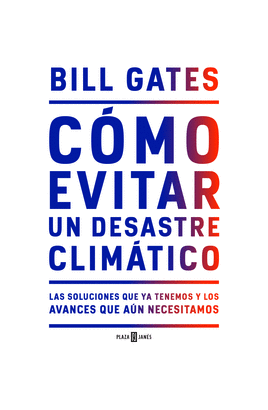 Add to favourites
CÓMO EVITAR UN DESASTRE CLIMÁTICO
LAS SOLUCIONES QUE YA TENEMOS Y LOS AVANCES QUE AÚN NECESITAMOS
VAT included
For your convenience, you can request the collection of this copy at any of our physical stores. The information on availability in e-commerce does not imply the existence of physical stock in the store.
To check the stock in a physical store, you can contact any of our stores.
Status: With stock
Description
Bill Gates ha dedicado una década a investigar el cambio climático. Con la orientación de expertos en física, química, biología, ing eniería, ciencias políticas y finanzas, se ha centrado en determinar qué medidas debemos tomar para detener la carrera del planeta h acia un desastre ambiental irreversible. En este libro, el autor no solo reúne la información básica para que tomemos conciencia de la necesidad de eliminar las emisiones de los gases causantes del efecto invernadero, sino que también explica qué debemos hacer par a alcanzar este objetivo tan importante.Gates nos ofrece una descripción lúcida de los desafíos a los que nos enfrentamos. Aprovecha ndo sus conocimientos en innovación y en lo que supone introducir nuevos conceptos en el mercado, nos detalla cuáles son los campos en los que la tecnología ya está ayudando a reducir las emisiones, cómo y cuándo se logrará que la tecnología actual sea más eficaz, dónde necesitamos dichos avances y quiénes están trabajando en estas mejoras tan necesarias. Por último, traza un plan práctico y e specífico para llegar a las cero emisiones, tanto con políticas gubernamentales como a título personal, implicando así a gobiernos, a empresas y a nosotros mismos en esta crucial misión.Como advierte Bill Gates, cumplir el objetivo de las cero emisiones no será un a tarea sencilla, pero sí está a nuestro alcance si seguimos sus pautas.