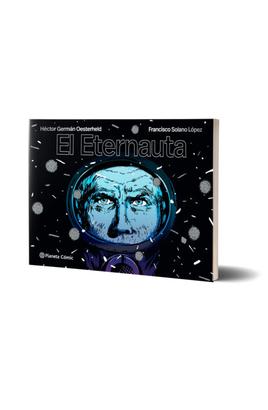 Add to favourites
EL ETERNAUTA
VAT included
For your convenience, you can request the collection of this copy at any of our physical stores. The information on availability in e-commerce does not imply the existence of physical stock in the store.
To check the stock in a physical store, you can contact any of our stores.
Status: With stock
Description
Provincia de Buenos Aires, Argentina, 1957. Mientras juegan a las cartas en una típica noche bonaerense, cuatro amigos escuchan una inquietante noticia en la radio: una prueba nuclear en el Océano Pacífico habría dejado material radioactivo en el aire que sería ar rastrado con el viento hacia Sudamérica. Segundos después, una nevada fluorescente comienza a caer en la ciudad y sus alrededores, m atando todo lo que toca. ¿Es este el principio de la anarquía y la violencia o una invasión alienígena?El Eternauta es la primera no vela gráfica en espanol y la más importante para el mundo hispanoamericano.Para esta edición definitiva, revisada y corregida que s iguen las directrices de los herederos de los creadores, se han retocado más de cincuenta ilustraciones sin alterar el espíritu orig inal de la obra, con la intención de optimizar su calidad visual, potencia y continuidad gráfica. Con su vitalidad narrativa, su vig or político y su peso iconográfico intactos, nos complace presentar la multipremiada historia que influenció a más de cinco generaci ones de lectores alrededor de todo el mundo.Debes saber que:-La presente edición mantiene la rotulación, diseno y estilo del origina l, para una experiencia lectora lo más cercana posible a la publicación inicial.-Historieta inicialmente editada en Argentina como u na serie de 106 entregas desde 1957 a 1959, dentro de la revista Hora Cero Semanal-Proceso de restauración ha estado a cargo del esp ecialista Pablo Sapi-Nominada a 3 Premios Eisner. Ganadora del Premio Eisner a Mejor colección o proyecto de archivo de tiras de pre nsa.-Adaptación para Netflix en preparación.