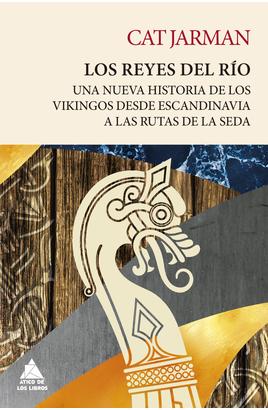 Add to favourites
LOS REYES DEL RÍO
UNA NUEVA HISTORIA DE LOS VIKINGOS DESDE ESCANDINAVIA A LAS RUTAS DE LA SEDA
VAT included
For your convenience, you can request the collection of this copy at any of our physical stores. The information on availability in e-commerce does not imply the existence of physical stock in the store.
To check the stock in a physical store, you can contact any of our stores.
Status: Available soon for online purchase
Description
El épico relato de las aventuras orientales de los vikingosLa época vikinga empieza con el saqueo del monasterio de Lindisfarne en e l 793. A partir de ese momento, los vikingos asolan costas y ríos de Europa, desde Escandinavia hasta la propia península ibérica. S in embargo, en 2017, una gema hallada en un yacimiento arqueológico cambió para siempre la historia de los vikingos. Se trataba de u na cornalina procedente de la India. ¿Era posible que los vikingos hubieran viajado tan lejos? ¿Cómo había llegado hasta Europa esa pequeña cuenta?Cat Jarman, bioarqueóloga y arqueóloga especializada en la época vikinga, rastrea el viaje de esa misteriosa gema des de Guyarat, en la India, hasta las islas británicas, y nos demuestra que, más allá de Europa occidental, los vikingos remontaron el Dniéper hasta el mar Negro y el Volga hasta el Caspio, tejiendo una red comercial y humana que unió Europa y Asia, y a la que los vi kingos, hombres y mujeres, se lanzaron en busca de riquezas, poder, aventuras o, sencillamente, de una nueva vida. En sus viajes ent raron en contacto y comerciaron con grandes reinos, combatieron como formidables guerreros al servicio de emperadores e incluso fund aron una dinastía.De lectura apasionante, Los reyes del río nos ofrece una visión nueva y espectacularmente más amplia de los viking os y del mundo medieval, y nos abre los ojos a una época fascinante.