Located in the Palau Nacional de Montjuïc, in Barcelona, it houses an extensive collection of medieval, Romanesque and modern art, with the best collections of Romanesque mural paintings in the world and the most representative artists of Catalan modernism.
The temporary exhibitions and activities that are organized make the museum a center of dialogue and artistic debate.
The library and shop of the Museu Nacional d'Art de Catalunya offers a selection of books and exclusive products designed and produced for the museum.
The bibliography has been selected to offer visitors to the museum and the general public those publications related to the Museum, temporary exhibitions and the world of art.
It presents a wide variety of objects inspired by the works of the museum's collections and their artistic periods, designed for an audience interested in the world of art (stationery, plates, ceramics, glass, textiles,...)
Share

Current promotions by MUSEU NACIONAL D'ART DE CATALUNYA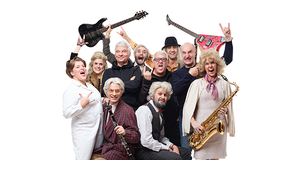 Promotion valid until 29/05/2022
FOREVER YOUNG al Teatre Poliorama
Una comèdia musical dirigida i adaptada per la companyia teatral TRICICLE i amb guió original de Erik Gedeon. Del 16 de març al 29 de maig de 2022.