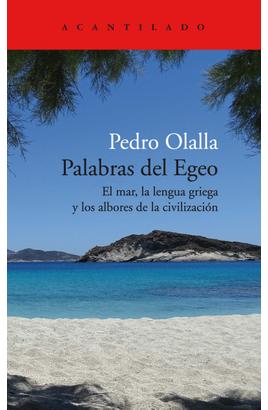 Add to favourites
PALABRAS DEL EGEO
EL MAR, LA LENGUA GRIEGA Y LOS ALBORES DE LA CIVILIZACIÓN
VAT included
For your convenience, you can request the collection of this copy at any of our physical stores. The information on availability in e-commerce does not imply the existence of physical stock in the store.
To check the stock in a physical store, you can contact any of our stores.
Status: With stock
Description
Estas palabras, escritas por un hombre que espera a su hijo en un rincón perdido del Egeo, son el testimonio vívido y consciente de un escritor con sensibilidad humanística y gran conocimiento de Grecia: una insólita reflexión junto al mar sobre la singularidad y la magia de la lengua griega como exégesis del mundo, un libro heterodoxo y profundo, un relato poético y vibrante que, sin duda, cambiará en el lector su visión del lenguaje, de la historia de los griegos e, incluso, de la propia historia de la civilización. Pala bras del Egeo reúne en sus páginas sorprendentes hallazgos de la antropología, la arqueología, la historia, la náutica, la genética, la geología, la mitología, la filología, la lingüística y la etimología, y nos invita a descubrirlos, con asombro socrático, hechos literatura. Un libro sobre las raíces más profundas de la civilización clásica para los verdaderos amantes de Grecia.